HOSPITALITY
A small farming settlement,
renovated with loving care
to extend an authentic rural
Friulian welcome to guests.
THE WINE RELAIS
An oasis of peace and wellbeing at the heart of our estate. The standards of modern hospitality in a small farm building, faithfully renovated with loving care.
An oasis of peace and wellbeing at the heart of our estate: four suites inside an ancient farm building, renovated with loving care to keep the main features of the original structure at the same time as providing the high standards required for modern hospitality.
Thick walls, floors in ancient terracotta, exposed beams, furnishings in the common areas designed to create a timeless atmosphere. A well-stocked library with books on the region, and a breakfast room with seating inside and out - to get the best from seasonal opportunities – striking the right balance between comfort and functionality. Well-stocked flower gardens surround the pool and provide attractive areas for guests to relax.
LAVANDA
Suite for 2 guests, equipped with entrance hall, double bedroom, large bathroom with whirlpool bath and private terrace facing the manor courtyard. A room arranged as a study makes this ideal for long business stays. An additional bed can be provided.
GLICINE
Perfect hideaway for 2 guests, on two floors with a spacious living area and a large private terrace/solarium with views over the Alps and the Giulian Prealps. Pastel colours and elegant interior fittings create a relaxed atmosphere bathed in tradition. For family groups, two further sleeping places can be arranged on request.
​​​​​​​ROSA
Maximum comfort for 2 guests and suitable for long stays. The soft colours of the interior are complemented by wall frescos in the double bedroom. The furnishings blend tradition and modernity. In the spacious living area, there's a private fitness set-up for guests. Space permits the addition of two further sleeping places on request.
IRIS
A practical, modern arrangement for 2 guests with its own privately accessed outdoor space and a bright and cosy living area looking out onto the manor courtyard. Ideal for anyone travelling with small pets.
FORESTERIA

A small farming settlement, renovated with loving care.
The perfect place to experience rhythms and habits of bygone times. Sober and elegant rooms, wide common spaces and, for book lovers, a small "Friulian library".
BOOK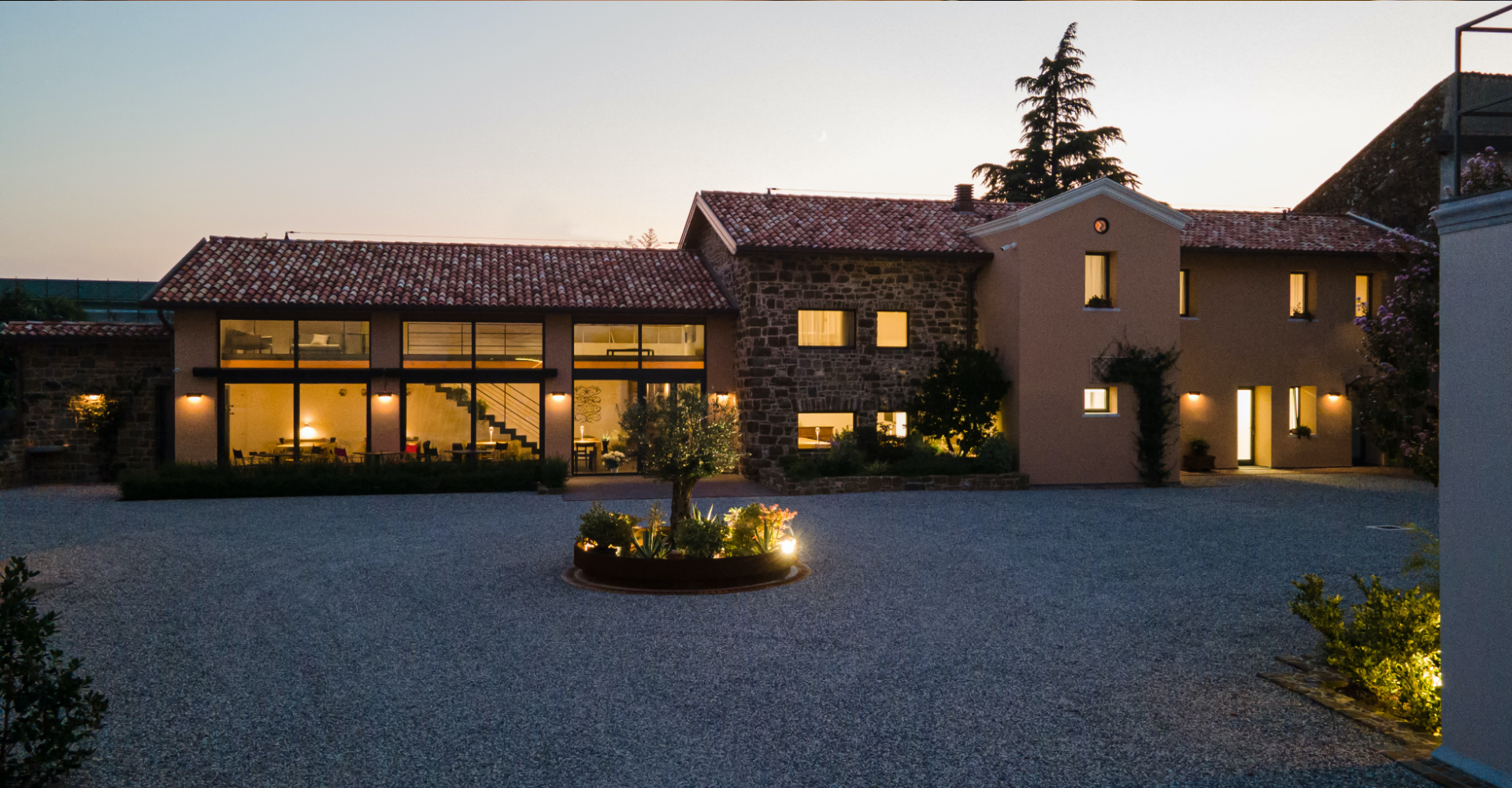 Four sober and elegant rooms, equipped with private bathroom with shower, towels, fridge, air conditioning and heating, TV LCD and Wi-Fi.
Perfect for a longer stay, a bright and fully equipped apartment where you can feel at home even while far away.
Wide common spaces and, for book lovers, a small "Friulian library".
EXPERIENCES
WINE, NATURE, CULTURE
From the vineyard to the tasting room, through the culture and traditions of a border land where the wines and their makers show how the Mediterranean dream can be combined with Northern rigour.
INFO
A multifunctional venue for meetings, business lunches and dinners, training courses and conventions, in a beautiful and private rural setting that complements business needs with warm and elegant hospitality.
INFO
Members are provided with the means to explore the world of wine and related subjects. A direct line to share our passion.
INFO
RESERVATIONS: please fill in below